Description
HP Thunderbolt Dock 230W G2 w/ Combo Cable (3TR87UT#ABA)
Reinvent docking and boost productivity with HP's most versatile Thunderbolt dock, the small, sophisticated HP Thunderbolt Dock G2. It offers a suite of connectivity options to your desktop/laptop via a Thunderbolt connection. You can connect external monitors, hook up to wired Gigabit network, plug in your headset, and use with a variety of USB-C & USB-A devices for charging and transferring data. And all these rich capabilities come in a sleek, elegant design that easily blends in with your desk setup.
Command your workspace from a single Thunderbolt 3 (USB-C) connection
Connect the included cable to your notebook to access a wired network, data, video, and charging with a dock that supports both HP and non-HP Thunderbolt and USB-C notebooks.
Reset your perception
Reclaim your work area with this space-saving centerpiece that helps create a clean desk. Its elegant, black, rounded design with smooth accents changes everything you thought you knew about docks.
Manage your enterprise fleet like a boss
Help IT easily secure and remotely manage a wide range of HP notebooks and the dock with advanced network manageability features* built into the dock, including WoL and MAC Address Pass-Through in all power states and PXE Boot.
Maximize your multi-tasking
See every color and detail of your projects with a superfast connection to dual external 4K displays as soon as you plug your notebook into the dock.
* Advanced manageability features such as WoL and MAC Address Pass-Through in all power states supported only on HP Elite x2 1012 G2, HP Pro x2 612 G2, HP EliteBook 1040 G4, HP EliteBook x360 1020, 1030 G2, 800 G5, 700 G5, 600 G4, 400 G5, and G4 HP Mobile Workstations as of January 17th, 2018.
Ports
Front: 1 USB-C port with data and power out (15W); 1 USB-C cable to connect to host system (0.7 meter cable length);
Side: 1 powered USB 3.0 port; 1 combo Audio Jack; 1 Kensington lock slot;
Back: 1 Thunderbolt port; 1 USB-C DisplayPort data and power out (15W) port; 2 DisplayPort ports; 1 VGA port; 2 USB 3.0 ports; 1 RJ45 port; 1 AC Adapter connector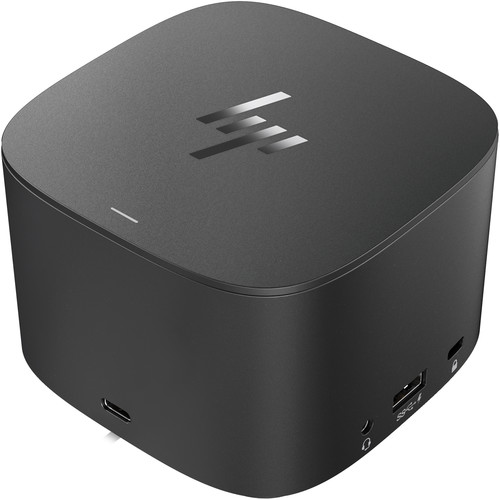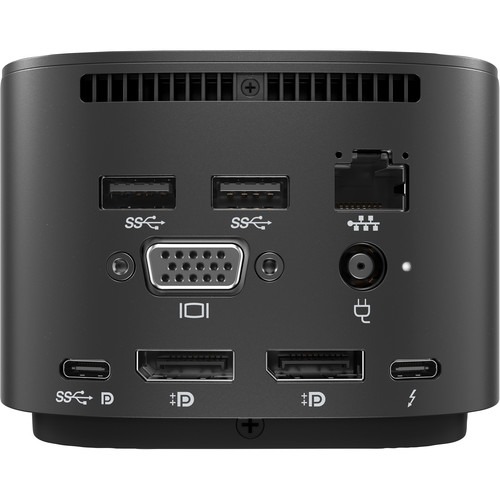 Compatibility
Compatible with HP Elite x2 1012 G1; HP Elite x2 1012 G2; HP Pro x2 612 G2; HP EliteBook Folio G1; HP EliteBook x360 1030 G2; HP EliteBook x360 1020 G2; HP EliteBook 1040 G4; HP EliteBook 800 G5; HP EliteBook 700 G5; HP ProBook 600 G4; HP ProBook 400 G5; ZBook 14u G5; ZBook 15u G5; HP ZBook 17 G3; HP ZBook 15 G3; HP ZBook 17 G4; HP ZBook 15 G4